Chandrayaan-3 sends detailed photographs of Earth, Moon clicked by lander cameras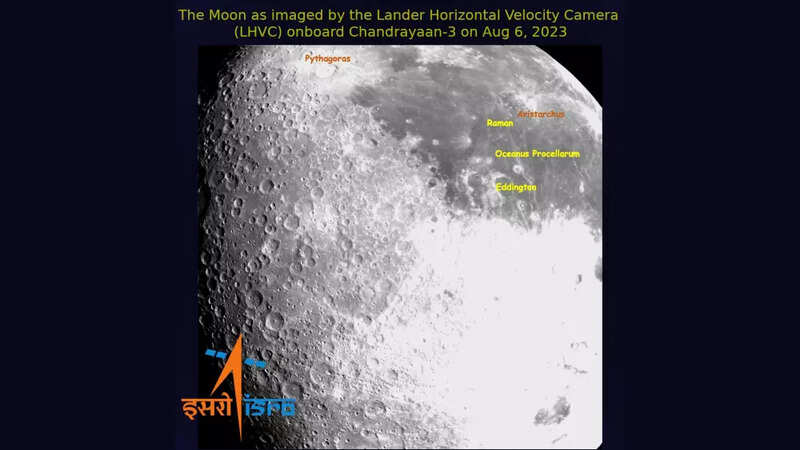 Chandrayaan-3 spacecraft is heading to the Moon and through its journey, it has clicked photographs of the Earth and the Moon. The Indian House Analysis Organisation (ISRO) has unveiled two footage captured by the spacecraft. Moon's new picture is extra detailed than the one launched by the Indian house company earlier than.
"Chandrayaan-3 Mission: Earth seen by Lander Imager (LI) Digicam on the day of the launch and Moon imaged by Lander Horizontal Velocity Digicam (LHVC) a day after the Lunar Orbit Insertion," ISRO tweeted.
"LI & LHV cameras are developed by SAC & LEOS, respectively," the house company stated.
Moon's and Earth's picture
The most recent picture of the Moon now exhibits a number of craters on the lunar floor intimately. The picture was clicked within the LHVC onboard the Chandrayaan-3 on August 6, 2023. The photographs present Moon's craters Aristarchus, Eddington and Pythagoras together with one of many giant darkish plains on the lunar floor referred to as Oceanus Procellarum.
In the meantime, the picture of the Earth clicked by the Lander imager Digicam onboard Chandrayaan-3 was clicked on July 14.
Chandrayaan-3 spacecraft nearer to the Moon
The ISRO carried out an orbital adjustment for the Chandrayaan 3 spacecraft bringing it nearer to the Moon. "Chandrayaan-3 Mission: Even nearer to the moon's floor," the house company stated.
"Chandrayaan-3's orbit is diminished to 174 km x 1437 km following a manoeuvre carried out immediately. The subsequent operation is scheduled for August 14, 2023, between 11:30 and 12:30 Hrs. IST," the ISRO added.
The Chandrayaan-3 will enter the 100km round orbit on August 16 and the touchdown module, comprising the lander (Vikram) and the rover (Pragyan) will separate from the propulsion module on August 17. Vikram will land on the lunar floor on August 23.
FbTwitterLinkedin
---
---
finish of article